Figuring out what to put on a bridal shower cake doesn't seem like it would be that hard. So why are you drawing a blank? Maybe because you're trying to come up with something cute, clever, and oh-so-fitting for the bride-to-be. That fits on top of a dessert.
When you think about it that way, it's not so easy after all. In fact, it may even drive you to question the whole concept of writing things on cakes. Who thought of that idea, anyway?
Fortunately, the internet holds plenty of inspiration for those in search of the perfect cake wording. One great place to start is the following list of bridal shower cake sayings. Whether you're looking for something traditional, silly, or hopelessly romantic, these ideas will have you saying "I do… believe one of these will work."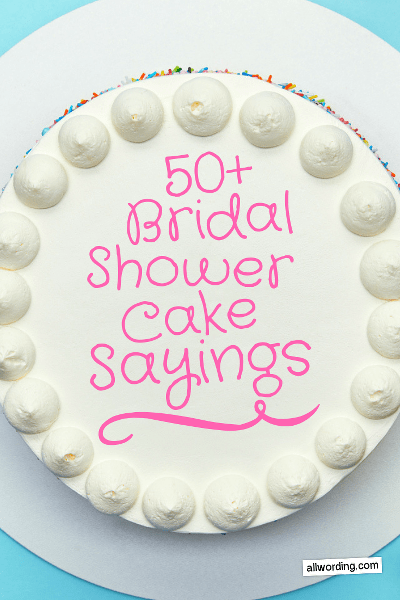 Simple/Sincere
To start, here are some straightforward bridal cake messages that strike a traditional tone.
Best Wishes to [Bride] and [Groom]!
Here Comes the Bride!
Wishing You a Lifetime of Wedded Bliss
And They Lived Happily Ever After
Showers of Happiness For Both of You!
[Bride's Initials] + [Groom's Initials]
Live, Laugh, Love
Wishing a Happy Life to the Future Husband and Wife
Showers of Happiness For [Bride]
True Love is Sweet
Congratulations to the Bride-To-Be!
A Match Made in Heaven
First Came Love, Now Comes Marriage
[Bride] and [Groom]: A New Chapter in a Great Love Story
Love is All You Need
Countdown to Happiness
Your New Life Starts on [Wedding Date]
Cute/Funny
Here are some clever sayings for a more casual wedding shower.
Sweetest Wishes to the Future Mrs!
It's Not Too Late to Skip Town
Cutest. Bride. Ever.
He Put a Ring on It
Now She's a Feyoncé
Marriage is the Frosting on the Cake
Ever Notice How Marry and Scary Rhyme?
[Bride]'s Last Taste of Freedom
As a Couple, You Guys Take the Cake
Till Death Do You Part
[Groom] Got Himself a Nice Piece
[Bride] and [Groom]: From Partners in Crime, to Partners in Life
He's Buying the Cow!
Marriage Has a Nice Ring to It
YES!
(That's what she said)
Wedding Diet Starts Tomorrow
[Bride] is Officially Off the Market
For more whimsical wording ideas, see our collection of cutesy love puns.
Themed
Finally, here are cake message ideas for some of the more popular wedding shower themes.
Beach
Wishing You Oceans of Happiness
Wishing You a Sunny Future
Life's a Beach For [Bride] and [Groom]
Travel
The World is Yours, [Bride] and [Groom]
Embarking on a New Adventure
It Was Love at First Flight
Wine
Cheers to the Future Mrs!
Eat, Drink, & Be Married
Kitchen
[Bride] + [Groom]
A Recipe For Happiness
As a Future Bride, She's Quite a Dish
Tea Party
They Fit Each Other to a Tea
Wishing You a Cupful of Happiness
Retro
True Love Never Goes Out of Style
[Groom] is Finally Making an Honest Woman Out of Her
Movies
[Bride] Found Her Leading Man
[Bride] and [Groom]
Coming [Wedding Date] to a Church Near You
80s
It's a Nice Day For a White Wedding
They're, Like, Totally Awesome Together